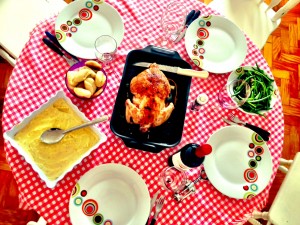 As I imagine some of you may have noticed, Thursday was Thanksgiving. It's not exactly recognized here, but I still wanted to do something or, at the very least, not be alone. Almost on a whim, I messaged Olivia, my one American friend here, and we decided to do an 11am "dinner" since we both had to work in the afternoon. Then I realized Maisa would also be free since she had (voluntarily) been included in her company's last round of cuts, and it was the perfect excuse to finally meet Frika, an Indonesian woman I'd only ever talked to online/via whatsapp. Everyone agreed to come, and suddenly, 90 degree weather aside, things were beginning to feel a bit more festive.
Then, predictably, came the stress. I always get very excited to host special events, and then the reality, in this case that I've never cooked a whole bird before, never mind in a foreign country, sets in. Serendipitously, Maisa was going to the store on Tuesday, so I jumped at the chance to share a taxi with her instead of trying to make the humid, two-mile journey with apples, potatoes, a turkey, and who knows what else, hanging from my shoulder. I also appreciated the chance to have a São Paulo supermarket expert in tow for this all-important trip. My biggest concern was the turkey. I'd seen plenty of chickens but never a whole turkey. Maisa seemed confident that "Chesters," whose name was coined by a major brand, are ubiquitous here, and I should have no problem finding this specific kind of turkey. However, we were out of luck at the upscale "Pão de Açucar," only finding one brand of giant R$55 pre-seasoned turkey. I decided for the first time in my life to pretend that I know how to go with the flow and to buy a small frozen whole chicken instead. It turned out to be the right choice since I later found out that Chester is actually chicken anyway!
The rest of the shopping trip went smoothly. I found green beans (vagem), apples, Yukon-like potatoes, and plenty of baking materials. For a moment I contemplated making my mom's world-famous pumpkin bread—the Japanese post-doc in my former lab said it was the best pumpkin bread he'd ever had, the wording of which made me curious to know how much pumpkin bread people in Japan eat–but I decided that, in the absence of canned pumpkin, I wasn't sure I wanted to take on hacking apart and pureeing a pumpkin on top of all the other new experiences awaiting me (our lack of a bread pan may also have quelled my enthusiasm a bit). Also on the list of nearly impossible-to-find Thanksgiving must-haves are cranberries. There's a chance the Mercado Municipal has them, but I decided it wasn't worth traveling across town so that I might increase my potential to have the opportunity to spend hours trying to make them palatable.
Continue reading 50 ways to piss off your cleaning lady →