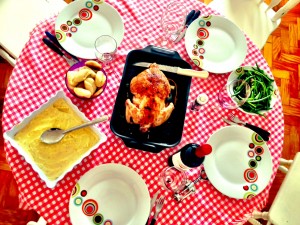 As I imagine some of you may have noticed, Thursday was Thanksgiving. It's not exactly recognized here, but I still wanted to do something or, at the very least, not be alone. Almost on a whim, I messaged Olivia, my one American friend here, and we decided to do an 11am "dinner" since we both had to work in the afternoon. Then I realized Maisa would also be free since she had (voluntarily) been included in her company's last round of cuts, and it was the perfect excuse to finally meet Frika, an Indonesian woman I'd only ever talked to online/via whatsapp. Everyone agreed to come, and suddenly, 90 degree weather aside, things were beginning to feel a bit more festive.
Then, predictably, came the stress. I always get very excited to host special events, and then the reality, in this case that I've never cooked a whole bird before, never mind in a foreign country, sets in. Serendipitously, Maisa was going to the store on Tuesday, so I jumped at the chance to share a taxi with her instead of trying to make the humid, two-mile journey with apples, potatoes, a turkey, and who knows what else, hanging from my shoulder. I also appreciated the chance to have a São Paulo supermarket expert in tow for this all-important trip. My biggest concern was the turkey. I'd seen plenty of chickens but never a whole turkey. Maisa seemed confident that "Chesters," whose name was coined by a major brand, are ubiquitous here, and I should have no problem finding this specific kind of turkey. However, we were out of luck at the upscale "Pão de Açucar," only finding one brand of giant R$55 pre-seasoned turkey. I decided for the first time in my life to pretend that I know how to go with the flow and to buy a small frozen whole chicken instead. It turned out to be the right choice since I later found out that Chester is actually chicken anyway!
The rest of the shopping trip went smoothly. I found green beans (vagem), apples, Yukon-like potatoes, and plenty of baking materials. For a moment I contemplated making my mom's world-famous pumpkin bread—the Japanese post-doc in my former lab said it was the best pumpkin bread he'd ever had, the wording of which made me curious to know how much pumpkin bread people in Japan eat–but I decided that, in the absence of canned pumpkin, I wasn't sure I wanted to take on hacking apart and pureeing a pumpkin on top of all the other new experiences awaiting me (our lack of a bread pan may also have quelled my enthusiasm a bit). Also on the list of nearly impossible-to-find Thanksgiving must-haves are cranberries. There's a chance the Mercado Municipal has them, but I decided it wasn't worth traveling across town so that I might increase my potential to have the opportunity to spend hours trying to make them palatable.
Ingredients in hand, the next step was just to make a plan of attack. Everything would be slightly different in a small kitchen and lacking some equipment I'd come to rely on. I decided to prepare the Parker House Roll dough the day before so I could be sure I at least had one thing that would taste good and could focus on the "turkey" the next day. This intended confidence boost backfired, however, since the second, post-shaping rise never quite happened. I don't know if it was the extreme dampness (it downpoured on Wednesday without a single drop falling in the Cantareira reservoir, of course) or because I had disregarded the packaging's instructions and used yeast (fermento em pó químico) opened more than 7 days earlier. When I got home from class at 10:45pm, I debated starting over again so I could get it right, but, for the second time in this special holiday period of personal growth, I decided to let it go. As a friend pointed out, no one would really know how they are supposed to taste anyway.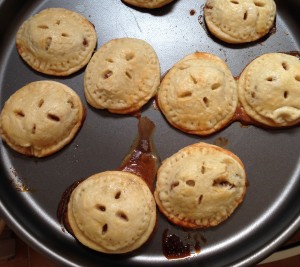 I had frozen a batch of smittenkitchen's apple pie cookies a week earlier (prior to cooking) so I could eat something festive on Thanksgiving day, but I decided at the last minute on Wednesday night that it just wouldn't be Thanksgiving without a proper pie. This was also about the time that Maisa and I remembered that Thursday was the day Veronica, our cleaning lady, was scheduled to come. Veronica only comes every 15 days, which is just irregular enough that somehow I invariably manage to schedule my most complicated cooking ventures for the day she is trying to clean the kitchen. I suspected she wasn't my biggest fan after I chose her cleaning days to marinate chicken, hang cheesecloth in the sink to make paneer, bake a strawberry cake that refused to cook through and required constant checking, but I think my 5 hours in the kitchen yesterday morning easily sunk the final nail in the coffin. I apologized profusely to which she weakly responded, "magina," ("no problem" but derives from the verb "imagine") but I tend to think she actually meant: "imagine what I'd say to you if Brazilians weren't culturally mandated to be extremely gracious."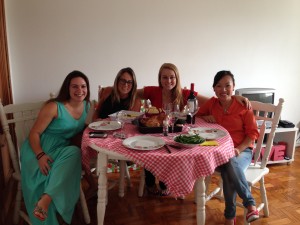 Extreme guilt aside, I decided Thanksgiving must go on—many of my students told me they'd been taught Americans consider it more important that even Christmas—so I woke up early to make pie crust and season the chicken. Lacking any kind of kitchen twine (and kicking myself for throwing out the green tie around the spinach I'd bought a few weeks ago), I was extremely pleased to realize I could use the handle from one my shopping bags to crudely truss the legs, although I have no idea if this was necessary—it made the chicken look the part anyway. After a morning of running around the small, 250-degree furnace (that's in celsius I'm pretty sure) of a kitchen, enlisting Olivia's help with the green beans and Maisa's to make sure I didn't burn the building down with the chicken as is my wont (I don't think most buildings here have fire alarms either), I wondered how the heck my mom does all this on her own. There's nothing like trying (and failing!) to do it yourself to make you appreciate your family!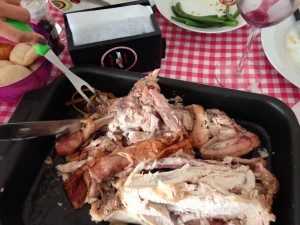 But I'm also extremely grateful that I got to spend Thanksgiving with three really lovely women. I will always remember the four of us sitting down, finally ready to eat, and staring at the chicken, all of us at a total loss as to how to "carve" it. Apparently breast side up is a good way to start. And I love Maisa for pointing out that it was so much better that the rolls didn't rise correctly since this way they actually fit much better in the bowl. The conversation bounced between Portuguese and English, sometimes within a single sentence, and the topics meandered from travel to language and illegal visas and from food to friendship. Ending the meal with some gooey apple pie and everyone's proclamation that they had eaten way too much and needed a nap, and I felt like, even thousands upon thousands of miles away from home, we had done the holiday justice.