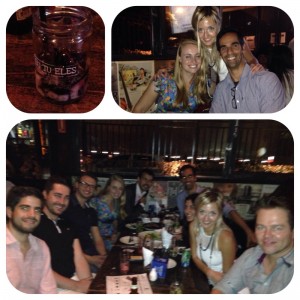 Despite the popularity of samba and the "balada" here, I've only been out on the town a handful of times. My first few were laid back weekend afternoons at the boteco with Bruna or Tammy and some of their friends. This usually involves sharing a giant Coors-lite like beer from a bucket of ice in the middle of the table along with some fried appetizers. Although I love the camaraderie, this approach is particularly dangerous when there is no free tap water and the waiter is constantly refilling your glass from a seemingly endless supply of communal beers he is bringing to the table. Add to this the fact that you're a gringa and everyone wants you to try a Caipirinha—Brazil's national drink for stupid tourists—and you're toast.
I have also had the pleasure of crashing several of Maisa and Bruna's girls' nights. Although they certainly don't happen every week, "the girls" told me Brazilians will use anything as an excuse to celebrate. When a particularly rambunctious one happened to fall on my dad's birthday, they assured me that they were most certainly celebrating him. I'm a bit skeptical, but I won't begrudge an evening to drink wine and eat biscoito de polvilho and some of Bruna's excellent cooking.
My experiences are few and I'm no alcohol expert, but in general, it seems that beer is the drink of choice at bars here, and there is really only a choice of two different companies, Brahma or Skol (and they are actually both owned by the same company). I'm told that microbrews do exist somewhere in Sampa, but most people are happy to partake in something relatively cheap and light that can be drunk in massive quantities. A friend told me that when they went to the US they were shocked by how little beer they could drink because it's so heavy and hoppy. For my part, I was shocked to find that Tammy's Guinness look-alike Brahma Black was actually extremely sweet and cream-based. Hops do not seem to have reached Brazil, and I am totally fine with that. What saddens me more is that I have yet to drink wine outside of the house. It is extremely expensive, and Brazilian wine is not considered to be very good. I think Maisa and Bruna usually bring back an Argentinian wine for upwards of R$25 instead.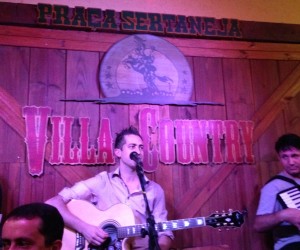 Ironically, my first true "balada," or clubbing experience was a visit with my co-workers to "Villa Country," a club devoted to playing sertanejo, or Brazilian country music (click "ouvir" to listen). After my co-workers grabbed energético (that would be Red Bull) at a

nearby mega-market, we arrived at a giant wild-west saloon. I had no idea what we were doing, but we spent R$5 each on some sort of VIP pass from a street vendor although Gerson warned me not to get too excited since VIP isn't really VIP. It's apparently just a way to reduce the cost of entry. When we made it inside, mere minutes later, we walked through what seems like 10 different rooms with various stages, kiosks selling handles of vodka for 100's of reais, and couples displaying their dance skills. My co-workers seemed fixated on finding the "cool" VIP room, but I must have missed the memo somewhere since Luciano had to stop me from intently following Gerson into the bathroom.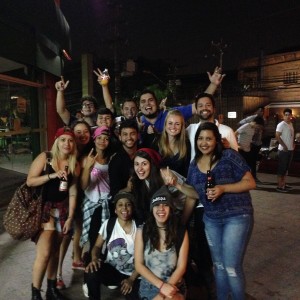 The evening felt a little like the social dance after a salsa lesson. People would approach me to dance and then realize very early on that I was not, in fact, being modest when I said I had no idea what I was doing. Unfortunately for them, though, it is not all that polite to leave mid-song, and so they were trapped, pushing me around the dance floor until the touching conclusion of, "if having a girlfriend were a good thing, this bar would be empty." Not that I wanted to get stuck dancing with the same awkward guy for the entire evening as I invariably do in the US, but it was frustrating to be the one who doesn't know how to dance. I have always been the one to help start the dance party and the one who is confident in her "moves," no matter how ridiculous they may be. Here, no one is particularly impressed if you're able to approximate the downbeat with some part of your body. They expect you to swivel your hips while following an inexplicable pattern with your feet at 100km per hour. It's also preferable that you do this while someone else is swinging you around in circles. I really need to take Fernanda up on her weekly offers to take me to her Samba school.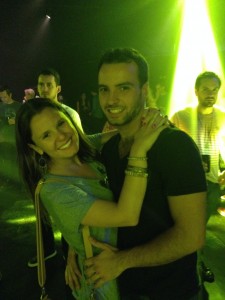 The only other times I've gone out have been to a farewell dinner for my Russian friend, Irina, and to one of Bruna's work events, neither of which required samba skills. Bruna's work balada played undanceable electronica, and the only dancing at the farewell dinner was when Irina stumbled onto the small stage to dance with the guitarist. I did learn at Irina's dinner that Portuguese with a French accent is nearly impossible to understand. It was also the one time, given that most of us weren't Brazilian, that we only drank caipirinhas or caipiroskas (with vodka instead of cachaça). This is never a good idea, but it's especially true since drinking and driving is very popular and accepted here. I have been told, time and time again, that I need to understand that it's just a cultural difference and it's totally fine in Brazil. Luckily, I also finally downloaded the phone app "99Taxis."