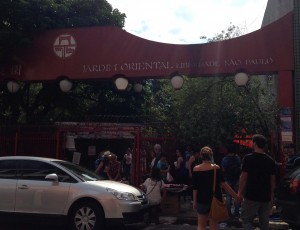 Somehow Bruna and Maisa have a sixth sense for knowing when I'm feeling lonely or sad. A few weeks ago, when I was having a particularly difficult weekend, Bruna messaged me Sunday morning, asking me if I wanted to take a walk down Paulista and grab lunch with her and Caio. Of course I jumped at the offer both to spend time with this sweet couple and to also force myself to get out of the house.
Upon my request, we headed to "Shopping 3," where it appeared that half the city of Sao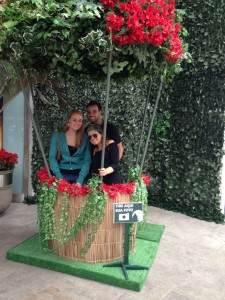 Paulo had flocked to look over the temporary stands that are set up every Sunday. Caio confirmed my estimate, explaining that, in the absence of a coast, Sao Paulo's 40+ "shoppings" are the city's answer to a weekend beach trip (Maisa had abandoned us for the real beach that weekend). Thus we spent a happy hour, meandering through the stands, Caio and Bruna helping me carefully pick out souvenirs. Upon leaving the shopping mall, Caio suggested that we wander around Liberdade, the city's "Little Japan." While I am not partial to sushi (way too ditzy for a gordinha like me), I was excited to see this famous neighborhood, which houses the largest population of Japanese people outside of Japan.
Why, you might ask, are there so many Japanese-Brazilians living in Sao Paulo today? Perhaps not surprisingly, the answer is essentially coffee and slavery. After the slave trade was abolished mid-19th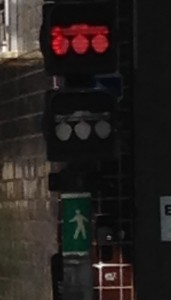 century, the Brazilian government offered subsidized immigration to Europeans in an effort to address the shortage of "cheap" labor. This resulted in a massive influx of Italians who continued to arrive until 1902 when the Italian government banned subsidized immigration to Brazil due to poor working conditions. This then paved the way for the arrival of Japanese immigrants who, having recently been released from feudalism into extreme poverty, were eager to own land and make a better life for themselves. When World War I began shortly thereafter, many countries such as the US prohibited Japanese immigration, thus further increasing the Japanese presence in Brazil. Although now, 100 years after the first Japanese immigrants arrived, the Japanese population is dwindling, the culture has still left an indelible mark on the Brazilian way of life, especially at the dinner table.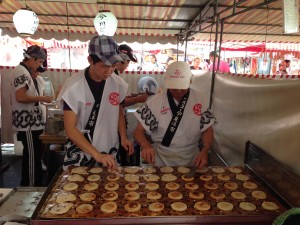 Our culinary education began upon exiting the metro at Liberdade, where we were confronted with yet another weekend market, this one filled with crafts and food stalls. A dorayaki and papaya juice later, we wandered through lantern-adorned streets and past a koi pond, until we came across a cafeteria-type building selling temaki and yakisoba. My extensive research tells me that, unlike what I had originally thought, temaki (hand roll) is not a Brazilian invention, but is indeed, at least in theory, authentically Japanese. What is, I think, uniquely Brazilian, however, is the sheer quantity of temakerias. But it makes sense. Who wouldn't want to eat sushi in a cone? Sushi cones offer more filling per "roll," and are therefore relatively affordable, and they put everyone on the equal playing field of eating awkwardly out of their hands (or plastic-coated napkins as it were—it is still Brazil after all). Most importantly though, their large size obviates the awkward Single Bite Sushi Requirement, meaning that, for the first time, you will actually taste the sushi.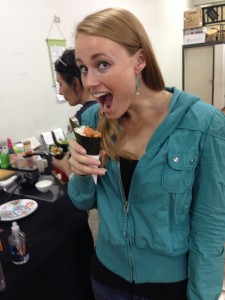 In search of a rodízio, or all-you-can-eat style sushi restaurant, we stopped at a local grocery store, which I noted as having chili paste, cheap shimeji mushrooms, and other useful cooking ingredients not available in more mainstream supermarkets. It also had a group of Americans making loud proclamations of disgust at the various Asian sweets—really, sometimes I'm surprised anyone is nice to me in this city. We also passed a street corner DJ, spinning the Japanese classic "When a man loves a woman," which, much to Bruna's chagrin, Caio proceeded to sing for the next 8 hours.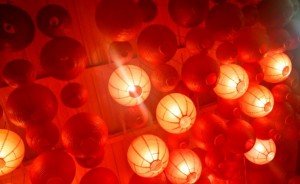 Unfortunately, when we finally got to the restaurant, it was inexplicably closed. I say this with surprise because on Sundays, Liberdade appears to be the place to be. Not to be deterred from our quest to find a good sushi rodízio, we decided to head to Kiichi in Vila Olimpia instead. Although at first it felt like cheating to eat Japanese food outside of Liberdade, it was hard to care too much after several happy hours of eating sautéed shimeji, veggie tempura, and multiple platters of sushi and sashimi. I arrived home reflecting how a day with such a mopey beginning had turned out to be so fun. Although maybe not as much for Bruna…As I was drifting off to sleep later that night, I'm pretty sure I heard Caio warbling, "when a man loves a woman."