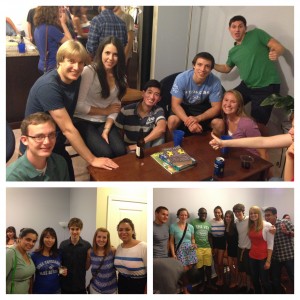 Today is technically the day that I "graduate" from Duke with a Masters so it seems only fitting that I cap the experience with some acknowledgements. Given that I decided not to finish what I originally set out to do, my sentiment is a little different than the traditional post-thesis defense slides. Still, today I want to thank my many friends in the triangle area who have helped me be strong enough to leave my PhD program and seek out what is healthy for me, and, perhaps most importantly, helped me realize that I am not a failure and I can have a long and successful career, whether it's in the sciences or not.
No one wants to ask their friends to prove themselves, but due to an unfortunate series of events over the past year, a lot of my friends were put in awkward positions, and time and time again they have supported me and helped me heal in order to move forward. Every time I've been at my lowest, someone was there with a hand and a hug to peel me off the floor. I was worried when I left the PhD program that some friends would take my decision personally and remove me from their lives—PhD ABD blogs/forums discuss this as a reality of leaving a program. However, my friend Ricardo was completely right when he said, "everyone who loves you will understand." People have gone out of their way to be inclusive and to organize special events to make sure I feel in the loop. Seriously. Now I feel like I have the best of both worlds: all the friends without the days on end of failed experiments! Ironically these same friends who I will really miss, are the people who have helped give me the confidence to take the leap and live in another country.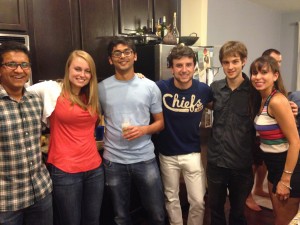 And there's nothing like saying goodbye, be it for the long or short term, to make you realize how much someone means to you. Over the past few weeks, I've been able to see a lot of the people in the triangle area that I really love, and it's definitely made me appreciate what wonderful friends I have here. As a way to see some people before I leave, I also hosted a "Brazilian party" over the weekend, and it again just drove home to me how lucky I am to have these people in my life. My friend Rejane, who I met through Ana, even said that she was so impressed by how nice and friendly my guests were that she had changed her thinking on Americans and American parties. So the stereotype that Americans aren't great about befriending foreigners may be true in some cases, but I'm proud to say that my friends (although they're not all American, so I can't give my country all the credit) are different.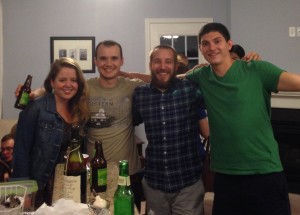 Especially since I'd spent a lot of the past year focusing on the negative, I have recently been thinking a lot instead about all the fun memories I've had with people here—from the Savannah marathon weekend with Jennie and co. (although fun is rarely the right word for a marathon) and pizza and Margaritas with Sheena, to Mark singing Usher during 8:30am exams, and dancing until 4am with Christine and Kelly. It's probably outside of the scope of this post to even begin to recount all the great times I've had with people here. I don't want to leave anyone out, and I know we will still have many more adventures in the future (Skiing in Chile, E-Beth?! Biking around Taiwan, Irene?! Exploring the Amazon, Kristen?!), but for now, I want my friends to know how much I love them and hope they will be in my life for years to come.