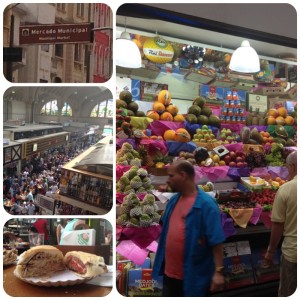 While I am something of a perpetual, unintentional tourist here, learning something new about Brazilian culture every day, my stay has been disappointingly lacking in formal tourist activities. It's a shame too because Sampa is filled with art, Samba (and the now oft-derided, pop-like "pagode," which my student described as music about nothing), museums and landmarks. One of my few touristy ventures has included a Saturday afternoon trip with a coworker to the Mercadão or mercado municipal, a giant indoor market in the centro (old downtown) of the city. The Mercadão, which opened its doors in 1933, is comprised of 100's of stalls of exotic foods including fruits and spices from all over the world. In fact, aside from my touristy inclinations, one of the reasons I wanted to go to the market was to buy garam masala since I couldn't find it in a traditional grocery store. On the second level, the Mercadão houses several restaurants famed for such favorites as pastel de bacalhau (a cod pastry), and sanduíche de mortadela (Italian sausage sandwich).
Near the market is the famed Rua 25 de Março. On Saturdays in particular, the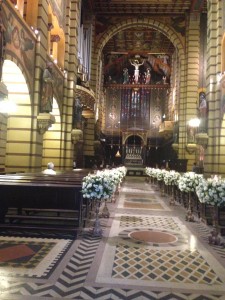 street is packed with people buying and selling knock-off designer athletic apparel, electronics, toys, and clothing. It is known as the best place in São Paulo to score a great deal while simultaneously being mugged. We didn't linger long, but I was happy to find a fabric store selling cheesecloth so I could make my first attempt at homemade paneer (again, impossible to find here—I asked for "gaze tipo queijo"). Instead, we headed to peek into the 400-year old São Bento monastery. Though very pretty, it turned out we'd missed the real highlight of the day by hours: the monks singing Gregorian chants at daybreak.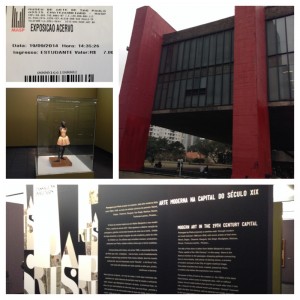 My second major cultural has been a trip to the Museu de Arte de São Paulo or MASP, a giant art museum on Avenida Paulista—it seemed only right to pay my respects after weeks of using the museum's giant red stilts as a landmark to orient myself. Aside from hosting Latin America's best collection of Western art, what makes MASP particularly unique is that (from what I can tell) the permanent collection constantly rotates such that, at any given time, only 500 pieces or so are displayed by "theme." My first thought after taking "a trip through Paris" (Passagens por Paris – Arte moderna capital do século XIX) on the main floor was, "that's it?!" But I soon realized this makes visiting the museum, with its over 8,000 works, much more manageable, and I will certainly never complain about having the chance to see a collection of famous Van Goghs, Renoirs, Picassos and Toulouse-Latrecs! And I will also admit that I may have mostly skipped an exhibit entitled "Deuses e Madonas" or something to that effect.
Upon entering the museum's elevator, the elevator operator had recommended that I start with these main exhibits on the second floor and then work my way down. So after taking 100's of illicit pictures (although I'm not sure whether this stealth was necessary. Contrary to what I'd read in online reviews, people were openly taking pictures), I ventured over to the stairway to consult the posted floorplan. Apparently, I was currently standing on the second "andar" (floor) where the two aforementioned collections were being exhibited, but on the second "piso" (floor) I could find an entirely different collection. Similarly on the first andar I could check out the "Cidades invisíveis," whereas if I went to the first piso I could go to the museum restaurant and store. When I asked the guard for help differentiating between the two types of "floors," he just kept gesturing wildly to pantomime for me that an andar is a floor. Er, well, thank you anyway, moço?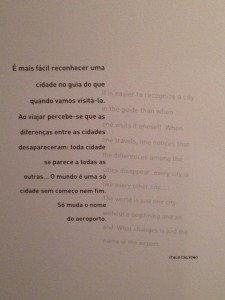 I decided that perhaps a "piso" is more of a mezzanine than a proper floor, and, figuring I had to hit them eventually, I made my way down the steps. This brought me to the 1st andar with the Cidades invisíveis exhibit, a collection of photographs, mainly of Brazilian cities, and Italo Calvini excerpts from his novel of the same name. Although the excerpts were roughly translated into English (many of these translations make me seriously consider exploring the translation job market here), I struggled to fully grasp the symbolism behind the exhibit. Maybe a Calvino expert will help me, but I think the gist of it was that because cities are invisible, they are reduced to their symbols (which, in the case of Sao Paulo, is the MASP). And cities become still more invisible when you enter into that city and see people living in their separate spheres, hardly aware of what is going on right next to them. Most Parisians, for example, never even go to the Louvre, even though it is at the heart of their city. Cities are therefore defined not by a concrete reality but rather by how we experience them through our individual perspectives. The use of photographs in this exhibit instead of paintings is then key because, as we tend to perceive photos as "objective," we often trust them much more than we do our "live" experiences. Calvino argues, however, that, far from being truly objective, photographs only serve to heighten the uncertainty and complexity of our reality.
Anyway… Maybe someone else can explain it to me because I'm not really sure I took any of that away from the exhibit. Still, I was very much able to enjoy the works of famous photographers who had captured various Brazilian cities at different moments in time over the past 80 years (since 1933). Strangely though, I never did find either of the two "pisos."