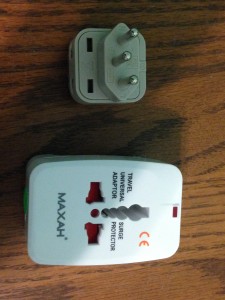 Moving somewhere—anywhere really, but especially a foreign country—forces you to think about what you really need, and I am not talking about my family and friends this time (although I need you too!). No. I'm talking about things. How can I maintain some level of comfort without trying to bring my whole country and way of life to Brazil? To start with, I've been trying to read about what adapters to buy and whether I need a converter. However, apparently every state in Brazil uses a different voltage and a different plug type. Supposedly, the country is trying to standardize to type N power sockets (which of course is only used in Brazil and South Africa, so universal adapters are of no use), but for now it's a mixed bag. I think the voltage is the same as the US (127/220V), but if I'm wrong, I will find out immediately when I blow out my hair straightener…
The other main thing I'm worried about is water. I have heard it's not the best idea to drink unfiltered Sao Paulo water, and I normally drink several liters of water a day when I have the time. I think a lot of places just have filters on the tap, but I can't assume that that will be the case everywhere I stay, and I know I will be really unhappy if I can't drink as much water as I want. Never having been there, I can't decide if a Brita filter or water bottle would be worth it.
Almost everything else is easily available in an international city like Sao Paulo, but it's also apparently exorbitantly expensive, particularly electronics. I thought this was mainly because the Brazilian government requires that they be produced in Brazil in order to stimulate the economy, but apparently it is also due to government inefficiencies and ridiculously high taxes. Luckily I am not a techie, and I'm not trying to sneak anything in (many do) so I will be bringing over a computer and a phone and hoping I don't need to buy anything else while I'm there.
More relevant for me are the inflated prices of clothing and toiletries. Thus, my preparations included a major Target shopping spree, such that there's almost no chance I will need any toiletries or makeup for the next 10 years. After also buying a couple of much-needed pairs of good jeans, I started to understand why my Brazilian friends spent days shopping before returning home. My international students used to do the same when I taught high school, but at the time I just thought it was specific to teenagers or perhaps Chinese teenagers. I had no concept of how relatively cheap certain brands are here as compared with the rest of the world. From what I hear, if you go to Brazil with hordes of Tommy Hilfiger clothes, Victoria Secret lotions, and Ralph Lauren anything, you can make a killing.
On the topic of branding, Stela also warned me not to wear my sunglasses on my head, when I was doing just that, because, in Brazil, they will get snatched away. I said, "oh, because they're a good brand? Should I not bring my nicest things?" She responded, "oh, no one knows Kate Spade, but you do have to bring your best brands. That's the only way people will know you're high class, which is really important since Brazil is a classist country." Still, despite my obviously extremely high class, it looks like the only thing I will be able to afford there are the shoes. Brazilian shoes (and not just the Havianas) are apparently affordable, high quality, and, unlike in Italy/Spain, will even come in my size, so at least there's one place I can save suitcase room.
Aside from making sure to transfer iTunes music between computers, a final consideration that has informed my packing has been my hobbies. Most of my hobbies seem to be doable in Sao Paulo—not that I don't want to learn new things, but this was an important factor when I was deciding whether to go. There are parks where I can go running, and I even found a pick-up soccer league I'll try to crash. I can certainly go out dancing and maybe even learn a real step or two (not that taking hip hop classes didn't make Mike and me experts), and things like reading and editing I can do from anywhere. One thing I really hope to continue though, is cooking. Not only will it be cheaper to cook at least a little bit, but I would love to cook and bake for new friends as well as learn how to cook some traditional foods. This of course begs the question, what should I bring that's not available there. Some of my previous travels indicate certain things that might be a challenge to find. Unsweetened chocolate comes to mind from the time I tried to make brownies for my English friend, Cory (I don't remember if/how we got around it, but she's a sweetheart and still pronounced the goopy chocolate things we ended up with "lush"). I've read that baking soda and powder are often sold in combination in Brazil, and I'm sure there are billions of other things I won't be able to find. Beyond a few basic things like measuring cups/spoons though, I'm trying to hold back and to look forward instead to learning to cook with Brazilian fruits and vegetables and to be open to learning entirely new cooking techniques and well, ways of life in general.