Living in Brazil on a tourist visa doesn't leave many "viable" options for work, but of course with jeitinho, there's always a way. Most Americans work under the table as either English teachers or nannies. Luckily for me, although less so for my younger brother, I've always been a teacher. In first grade William was forced to do third grade math. In second, he was learning NH history and state symbols in strict accord with the state 4th grade social studies learning standards. Actually, as my mom reminded me, if he hadn't scheduled "recess" so often, he probably would have finished calculus by 10th grade instead of 11th (slacker)! Although English was probably my favorite subject in middle school, my high school teachers piqued my interest in math and science, and, aside from the occasional informal edit for a friend, my love of writing and English has, since then, been indefinitely set aside.
While teaching English as a foreign language is certainly different from my childhood goal of teaching middle school "Language Arts" ("Isn't LA a city?" my dad would ask. "Why can't the school in this town just call it English like everywhere else?"), it has been an interesting opportunity to revisit the idea, and I feel somewhat better-equipped than a lot of expats who move here and just need any job to survive in an extremely expensive city. Also, after working in the lab, mashing up and culturing mouse/bird spleens almost every day for the past 5 years, I'm realizing how much I miss working with students, trying to see the material through their eyes, sharing their excitement when something clicks, and helping them work through their frustration when it doesn't.
About a month ago, I responded to a posting on an expat social network forum searching for native speakers to teach English. Based on the information I gleaned from my perusal of Brazil expat blogs, I didn't really expect to receive a response to my e-mail inquiry since most schools apparently prefer to meet potential teachers in person. I was therefore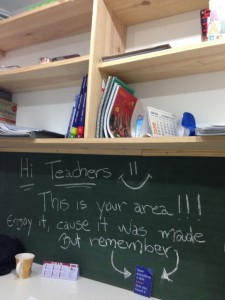 surprised when Michele's request for a skype interview showed up in my inbox the following day. Despite my distance from Sampa at the time and my lack of English teaching experience, Michele seemed excited both that I speak American English (yes, I do have mad skillz), and that I have some experience with and am passionate about teaching and therefore, unlike many expats, would not just be doing it to make money. She said it's tough on both the school and the students when expats on tourist visas leave after working for three months, and maybe I could try to get married to a Brazilian so I might qualify for a permanent visa? Aside from making me feel uncomfortable for the obvious personal reasons, these words also made me feel guilty, because teaching English is not my dream, and I'm still hoping to slide over to teaching science or math at an international school.
In the meantime, a friend referred me to another language school, excitedly telling me that the pay included accommodation, and that the school also helped teachers obtain work visas. Again, having read that if a school makes a lot of promises, especially with regard to obtaining a work visa, it is probably too good to be true, and I was therefore wary of following up on this opportunity. Still, as it seemed foolish to let a potential lead slide (either that or maybe, just maybe, my friend followed up on my behalf), I planned to meet up with Sam, one of the school's two English teachers, after my first few days in the city. And I'm sure I made a stellar first impression when I arrived at least 45 minutes late after wandering around the back roads of Vila Madalena without the ability to contact her to let her know what was going on. When I finally arrived, sweating, near tears, and apologizing profusely, a tall, thin, blonde woman in a trendy, midriff-baring shirt smiled down from a balcony and asked, "shall we get some ice cream, then?" At that point Sam's kind face was a welcome reprieve from my stressful wanderings, but I knew there was no way I could get the job after arriving 45 minutes late for the interview!
However, despite my tardiness and Sam's well-founded concern that I lack certification and experience (and likely a good enough sense of direction to find my classroom), Sam let me observe her class the following day and decided to give me the opportunity to teach for the school based on my teaching experience and er, "enthusiasm?" We've been meeting for crash courses in English grammar this week, while I've started teaching a few classes at the other school. It will be interesting to teach at both schools since the teaching styles are very different. While Sam's school uses a more traditional method, similar to the way I learned Spanish, Michele's school uses the Callan method, a British method that is based heavily on repetition, rapid recall, and correction by imitation. As much as I will probably always look like a tourist here and for the time being can only be paid as such (ie. by cash or check), I'm anxious to dive into the fast and furious working world of Sao Paulo.