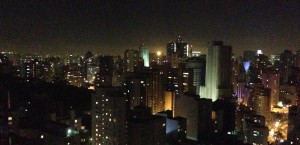 Somehow my first two weeks in Sao Paulo are over, which means so is my Airbnb stay with Tammy. I think I originally tried to give myself credit for making the brilliant decision to find a place through Airbnb, but in all reality, I just lucked out to have such an excellent host as Tammy. Yesterday was my last day staying with her, and I was very sad to leave!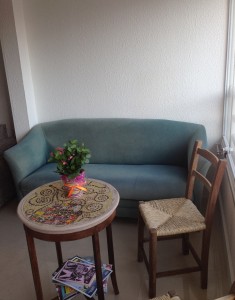 In addition to the critical fact that all of her previous residents had only the most positive things to say about Tammy herself, I chose Tammy's listing because of its proximity to Paulista and a metro station, the fact that it has its own gym, and the constant presence of a "porteiro" or doorman for enhanced security. The irony of this last is that, at least initially, the porteiro did a better job of keeping me in than non-residents out. What do you say, especially when your language skills are poor, to a doorman you can't even see?
And so, I was terrified of leaving and not knowing what to say over an intercom to get back in. When I left the apartment alone for the first time, I felt like I was sneaking out furtively, hoping I could somehow con my way back in. My fears were far from assuaged when I returned later that first day and pushed the little blue button at the first gate. A few seconds later, a man's voice mumbled something to me through the speaker. Without being able to see the person I was talking to, I felt at a loss for what to say to make myself understood. I attempted some Portunhol iteration of, "I'm staying with Tammy on the 11th floor," but this only elicited more uninterpretable (to me at least) questions. Eventually I seemed to have provided enough information to enter, and I smiled and nodded, "Boa noite, obrigada" at an opaque window as I passed through a second gate.
About a week in, I finally asked Tammy what she said to the little speaker box after pushing the button. "Oh, I just push the button and walk in! I gave them your name too, so it should be no problem." Not once had it occurred to me during any of my nervous practice sessions or in reality, to try giving my own name. Of course, the following day, one of the porteiros happened to ask me for my name, and from then on, pretty much immediately after I pushed the button, I heard, "pode entrar."
Having thus completed the critical, "Lesson 1: Porteiros," living in Tammy's apartment became much easier. I won't pretend I used the gym every day, but, when in a rush, it was an excellent alternative to dodging traffic (not literally though, Mom) while trying to find Parque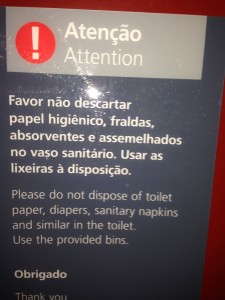 Ibirapuera about three miles away. An especially pleasant surprise about Tammy's apartment relates to a more delicate matter. I had read prior to my arrival in Brazil that, the plumbing here can't handle toilet paper, so it must be thrown away in the trash next to the toilet. I was unsurprisingly not exactly looking forward to this, and the smell of the Guarulhos bathrooms only confirmed my fears. When I timidly posed the question to Tammy though, she said since her apartment and neighborhood are so new, it isn't necessary at her place. The only downside to having such an exception is that now, without a sign, which there rarely is, I never know what rule to follow!
Because Tammy's place is quite new and she's put a lot of work into it, it's likely to be fairly unique in a number of additional ways. Still, there are certain qualities that seem to be common among apartments here in general. For example, residences almost always have tile or hardwood floors, I think because it helps keep the home cool during the hot days of summer. Having a screen over the window is not the norm, but the type of screen "alternative" seems to vary from place to place, and people who don't live in high rises sometimes open up their houses to air everything out. There is only one tap for each faucet in the house, and it's for cold water, except in the shower where I think the heating is still electrical. Although my experience does not line up at all with some of the horror stories I've read. Before my first shower Tammy just said I needed to turn the nob well for the hot water to come on.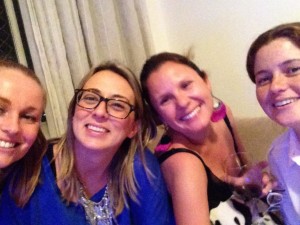 After a week with Tammy, right when I was getting up the nerve to ask her if she had any advice for finding a new place, Tammy suggested that I talk to her former roommates about living with them in Vila Madalena if I didn't have set plans for housing yet. No sooner had I told Tammy that that would be ideal (I'd met one of the roommates, and she, like Tammy, is great), than she messaged her friends and planned an evening so I could get to know them better and see the apartment. After a really fun, cheese-filled evening, I jumped at the chance to live with Tammy's good friends in a fun part of town. It's only been one night, but it was clearly the right choice. Soon after I arrived in the new apartment last night (and I know I should have politely declined), Bruna and her boyfriend kindly encouraged me to crash their romantic wine and cheese picnic in her room.