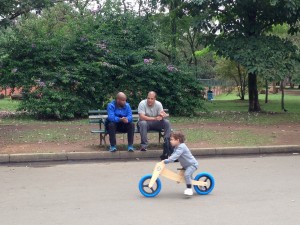 Sao Paulo is indeed the concrete jungle everyone promised me it would be. Every building follows a different design than its neighbor. It is not uncommon to see a small house between two high rises, connected by an overpass, simply because no one planned out how much space a business might need ahead of time. The city is always in a hurry, and it is no rare occasion that a pedestrian gets run over by a motorcycle flying around the corner, although there is apparently a movement to increase awareness. Throughout the city, there are a number of reprieves from the concrete, if not the madness, in the form of abundant greenspaces scattered throughout. Unlike what I initially thought, however, it turns out that rather than slowing down for the weekend, Paulistanos simply take their intensity to the park.
Yesterday morning, my roommates, Bruna and Maisa, brought me to Ibirapuera, the biggest park in Sao Paulo. Not surprisingly, 19.9 million other people had the same idea, and Maisa tells me it's far worse when the sun is out. Still, as my almost maniacal smile in
 Maisa's action shot illustrates, it was wonderful to be running with her, far away from the city blocks and the crazy traffic. I had run to Ibirapuera once before from Tammy's apartment, and, due to all the traffic interruptions, 2.5 miles took me about 40 minutes. This time Maisa drove us there, and it was such a relief to be running in the park where my only limitation was how quickly I could dodge the other runners and walkers. Another immense difference between running in the park versus around the city is due to a tiny, insignificant Sao Paulo fact that no one in the blogospheres seems to mention. Seriously, Sao Paulo bloggers, I want my money back! The fact is, this city is a crazy series of steep peaks and valleys, making even the shortest run a pretty unappealing proposition. My family went to Quebec City earlier this year, and Sao Paulo is actually quite similar, except with three times the area to cover and over 20 times as many people. When I first arrived, the hilly terrain was (and still is) by far the biggest shock.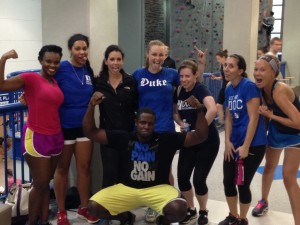 Ibirapuera park is relatively level, however, which is an especially pleasant contrast to the uphill slog I start the minute I step outside our apartment gates every morning. Maybe walking around the city though will be enough aerobic activity to make up for the HIIT class I was attending in Durham (sorry HIIT buddies. I wasn't able to kill Sally before fleeing the country). That's not to say there aren't plenty of gym options here in Sao Paulo, but they are extremely expensive. Brazilians are some of the most fitness-obsessed people in the world, especially Cariocas (from Rio), but Paulistanos are no slouches. At first I didn't realize that many of the playgrounds in my neighborhood are actually mini "fitness parks" with colorful fitness equipment, instead of slides and swings. Although some foreigners have an image of Brazilians on the beach, "letting it all hang out." In reality, Brazilians work extremely hard, using both natural and surgical methods, to enhance their appearance. It's no wonder that they are proud to show it off.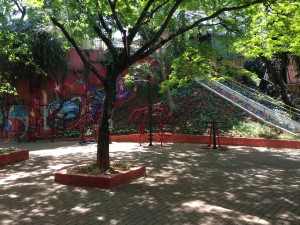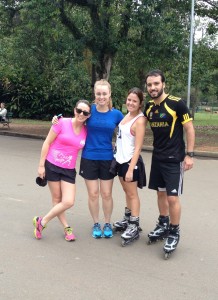 I was a little worried about living in a country with so much focus on appearance, but I do really appreciate how pedestrian it is here to see people running through the streets and walking around in fitness attire (although the latter is often accompanied by a cigarette). Things have very likely changed in the past ten years since I lived in Seville, but every time I left her house for a run, my host mom would admonish me for going out in the cold, and on the way to the park, men would gape as if they'd never seen a woman exercise before. Here it is almost expected that you will take part in some activity, with volleyball and running probably being the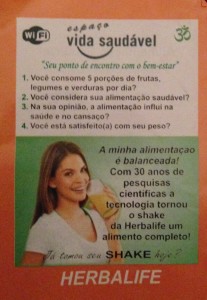 most popular for women. Both my roommates are very conscious of what they eat, and Bruna's boyfriend is a personal trainer. I have never bought into the juicing craze, but Maisa's pre-run "green juice" with yellow melon and kale was pretty delicious this morning. I don't know if I'll be as likely to get into the Herbalife trend here, but I am hoping some of my roommates' good habits will rub off on me.
Interestingly, as Olivia pointed out, Sao Paulo is also a very young city. It is very rare that you see an elderly person walking down the street, although I did accidentally help a little old lady cross the street the other day. A cursory google search bore out Olivia's observation—one source reported that only 9.3% of the populations is over 64 years old (in 2000). This makes some sense to me as I simply have no idea how an older person would get around in the city. Between the steep hills, the crazy traffic, the sheer number of people, and the summer heat, it is hard enough for a young, healthy person to navigate. Thus in Sao Paulo, I am seeing a disproportionately young and healthy cross-section of Brazil.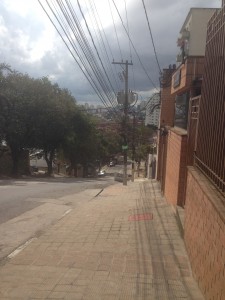 Unfortunately, despite the many healthy and beautiful people, Brazil has also failed to unlock the secret to health and fitness, and, perhaps in large part thanks to a strong influence from their "neighbors" to the North (yes, that would be us), Brazil is catching up on obesity rates. Much like in the US, the low-income segment of the population is quickly becoming dependent on easily-accessible, processed, fast foods, while the rest of the country is constantly dieting and in general, food and exercise-obsessed. In addition, while it is possible that I notice product advertising more here because it's not written in my first language, I have been surprised by many of the claims on chocolate products for example; chocolate bars filled with sugar or sugar-alternatives are marketed as healthy and regenerative. Heck, I should know better, but I was still almost convinced at first! Maybe chocolate is healthier in Brazil?