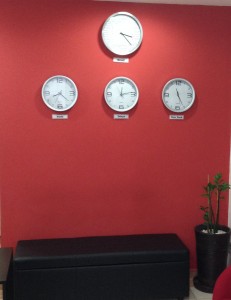 The first rule of the Callan method is to buy into the Callan method. However, when I watched the Callan videos Michele sent me before I started, I was highly skeptical. There is no creativity, no freedom of thought or personality. How can students learn English this way, never mind possibly enjoy class? Clearly employing this method was going to be a serious challenge for me. Still, I liked Michele, the owner of the school, and the prospect of starting a job immediately was pretty appealing. Plus, really, what do I know about teaching or learning a language; I keep starting new ones before mastering the old. And furthermore, there was just something comforting that first day about walking into the school's office with it's team of friendly teachers and office assistants, its appealing decorations and the familiar admonishment to "leave the area better than you found it"—of course at that point, it also possible I was just relieved to have internet access…
And my impression of the Callan method changed on my one day of training. After going through the lesson structure and idealogy, Michele used the Callan method to give me a mini Portuguese lesson, and I was shocked to find that, perhaps I'm just devoid of all original thought, but, for me, it was actually kinda fun! Even though it seems silly and almost condescending, trying to keep up with the teacher is like a game, and with the constant inevitability of being cold-called in a class size of, at most, six students, you certainly never run the risk of falling asleep!
From observing other teachers' classes I have also learned that it is altogether possible for a student to show personality and even share opinions. Callan takes no prisoners in terms of asking personal, sometimes even intrusive questions, and I've been surprised by how much the simple questions can reveal about a student as well as Brazilian culture. For example, in a beginning stage, there is a line of questioning about "your mother's name; your father's name; your father's wife's name; and so on." and several times it has become apparent that Dad has divorced Mom for a co-worker or secretary. After an awkward pause, we usually continue rapidly through the lesson. My cultural education on many topics, such as politics, is far from dependent on my Callan method students, but it was still interesting to hear a student respond to a guided question that he thinks politicians from other countries are better and that politicians in Brazil are bad because they do not account for the money they spend. A very simple Callan method question was capable of eliciting a student response that accurately represents the widespread feeling of political disillusionment.
From a teaching standpoint, the Callan method might be considered appealing too in that it requires very little preparation. It uses prescribed scripts and lesson plans that, if needed, can even be done on the fly. The teachers rotate through the different classes of students, allowing for maximum flexibility of schedule, the downside of this being that the teacher has little autonomy and rarely has the chance to develop close relationships with students. But again, in employing the Callan method, I have learned it is very possible for the teacher to show some personality and make the class their own. Not surprisingly, I wholeheartedly embrace the opportunity to be a little goofy when miming the different questions. Back when I was preparing for my sample lesson in the apartment, I was lucky Tammy never returned midmorning since she would have found someone gesticulating wildly and whispering to herself. Luckily, during my sample lesson, Michele was apparently happy enough with my brand of crazy that, for my first class, she let me cover her reportedly most important class with the CEO of TV Cultura's son/daughter (/type of familial relationship was lost in translation).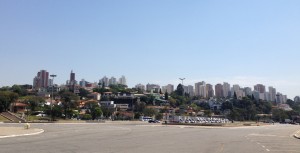 As I hiked to my first class with the following Monday morning, I was nervous. His/her (??) residence was, of course, 5 miles away at the top of a never-ending mountain, and there was nothing I could do to prevent the streams of sweat from pouring down my back. I imagined the first impression I would make, flushed and soaked to the core, shaking hands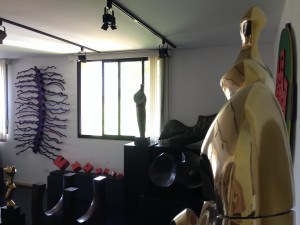 (kissing the cheek of?) with one of Sao Paulo's elite who would be clad in immaculate business attire. About 45 minutes and several wrong turns later, my nervous musings were interrupted when I ran into a woman standing in front of an ivy-covered wall. She kindly asked me what number I was looking for, and I realized I had arrived and was standing in front of Baby TV Cultura's residence. The woman turned out to be the receptionist, and we both waited as the housekeepers opened the gates for us. To my surprise, the house was filled with 100's of works of arts—Michele's school has an online database of class locations, but somehow the notion that this residence with the identifier, "Art House," might be a gallery, never crossed my mind.
The secretary poured me some water and led me to the "classroom" to wait. About 15 minutes later, Marcos, a middle-aged man in sweatpants and Dalva, a slightly younger woman in sleek, black, capri spandex appeared. After exchanging introductions, I began asking them the ridiculous, prescribed questions using British English. "Which book has got the most pages? Has Chile got more people than Brazil?" It was clear these two students found me very difficult to understand, and given that previously they'd only really heard Brazilians speaking English, this was not surprising. I tried to slow down a little without entirely compromising on the fast pace of the Callan method.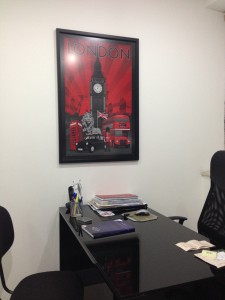 The other challenge, aside from quickly changing all the reference points to Brazil (who outside of England knows if Grantchester is a city or a village?), was forcing Marcos to answer every question in full as the method requires, especially when his abridged response was still correct and much more natural. Dalva would sit there rolling her eyes and muttering at him in Portuguese to give the whole sentence. Undeterred, Marcos' eyes would twinkle and he would lean in to better hear me, laughing as we went through the sentence again: "No, not all students are good at languages. Some are good and some are bad" After this last, he grinned mischievously before going off-script, "I am bad at languages, and my wife is good." At this point though, his wife was ignoring him and furiously jotting down pronunciation notes. By the end of the lesson, I had no idea how the lesson had gone, or much more importantly, which of these two people was Baby (or maybe sibling?) TV Cultura. It just seemed they were frustrated by this weird new accent and change of pace, so I was surprised when they smilingly thanked me and told they loved having me and that I seem very Latina, so happy all the time!