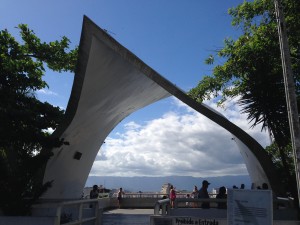 Here in Sao Paulo, there are three November holidays: Day of the Dead on November 2nd, Day of the Republic on the 15th, and something that  translates literally as "Black consciousness day" on the 20th. This last I originally interpreted to be an ancient religious holiday, a day to atone for your sins perhaps. It turns out it's a recent creation that is recognized only in Sao Paulo state and is actually somewhat akin to "MLK Day" or "Civil Rights Day." No one could really tell me much about it, although one student did say it's sad we still need this holiday, given how many black people there are in Brazil. Still, especially since the other two November holidays fell on weekends, everyone is happy to have the day off. In fact, because this one falls on a Thursday, a lot of people have Friday off as well. There is even a Portuguese verb specific to this method of extending the weekend. My students were surprised to find that no such verb exists in English and, unlike in Brazil, it is not standard to have 30 days off (plus holidays) in the US.
All this is a long way of saying that things have been quite busy. Because today (Thursday) is a holiday, many of my students moved their classes to Mon-Wed, so between that and my poorly-timed decision to pick up a particularly difficult editing assignment in the meantime (think, a French manuscript barely google-translated into English), I was working nonstop from 7am-10pm the past few days. Needless to say, I am quite relieved it's finally Thursday. I went out for a beer with co-workers last night and even slept until 7:30!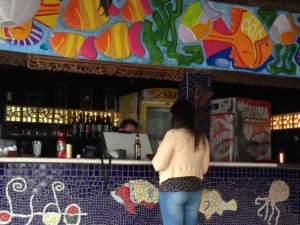 I also had last Saturday off thanks to the Day of the Republic (Independence Day #2?), and Maisa brought me to her hometown of São Vincente, a small coastal town in São Paulo state. There, she introduced me to her family, and everywhere we went, we ran into another sister or friend. When I remarked on how popular she is, she just shrugged and said, small towns are that way. At night, we went to her friend's birthday party, which was held at an open-air bar overlooking the ocean, and because the bar is closed on Saturdays, we had the place to ourselves. It was pretty cool. Here, birthday parties (and probably parties in general) are more family affairs. The bar was filled with 20/30-somethings, their parents, and young children. At first it felt uncomfortable seeing young children running around in a bar while people were getting sloppy drunk, but it is a normal part of the culture here. To my benefit as well (no one asked, "why the heck is this Gringa here?"), everyone is included in everything. At one point I was talking to someone when we were interrupted by the arrival of his mother and aunt who he immediately called me over to meet.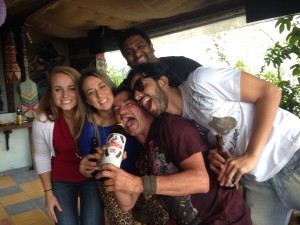 Much to my disappointment, however, brigadeiro's are only common at children's birthday parties, and there was no cake to satisfy my sweet tooth. In fact, not entirely unlike the US, birthday parties here seem to be more of an excuse to get everyone together to drink and dance. One of the honoree's friends is a musician, and he spent much of the night playing Brazilian favorites while everyone around me, including the 4 year-olds, effortlessly whipped out their samba moves. Sometimes another friend would join the musician on stage for a song or two, and everyone would boo and try to kick him off the stage to no avail. Gotta love Brazilian honesty. When we got back home around 3:30am, Maisa was dying for a pizza, but everything was closed. It made me feel right at home to see that drunk, late-night pizza cravings transcend cultures. It's a beautiful thing really. I wonder how a Papa Johns would do here?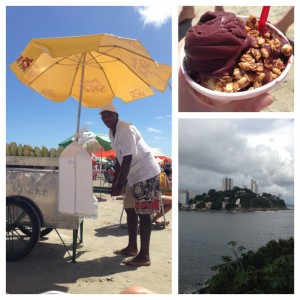 After a slow start the next morning, Maisa and I met Tammy at the beach. As anticipated, both men's and women's Brazilian swimware is a bit smaller than the American equivalent (although, I didn't see a single thong), and for the first time in my life, I almost wished my bathing suit bottoms were more revealing. As it was, I felt like my well-covered butt was screaming, "Gringa! Gringa!" On the plus side, I felt no shame in buying a giant açaí dessert from a stand on the beach as clearly it was necessary for my cultural education. We followed several hours of lounging on the beach with a lunch of ham lasagna and a lazy afternoon playing with Maisa's adorable 6-year old niece. I'll admit I wasn't above being charmed when Maisa's sister told me that her daughter thought I looked like a Disney princess. And when we were leaving on Sunday evening she requested that we take a photo so she could prove to her friends that she had met a princess.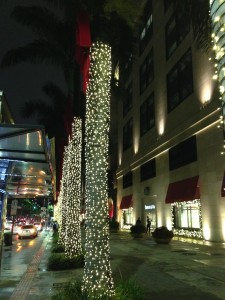 And speaking of the beach, half-naked people, and 80-degree weather, Christmas is all around us. Halloween and even Day of the Dead are not really celebrated here (I asked Bruna when we were at a party if a group of people were dressed up for Halloween, and she explained that no, they were just weird), but Christmas still seems to at least wait for the few participating shops to take down their Halloween ornaments before jumping in with a vengeance. Given that it's now late November, there is no turning back. Yesterday, one of our porteiros proudly showed me the giant mound of Christmas lights he was planning to hang on our tiny front gate. Every time I walk down the street a new building has been adorned with lights and wreaths, or I pass a group of men on the sidewalk in front of a business, quietly contemplating the piles of decorations scattered in front of them. And although this is certainly not Brazil-specific, it feels like it's been months since Starbucks rolled out its Christmas "blends" and traded in its selection of Shakira and Juanes (maybe I was just there on Spanish music appreciation day?) for Christmas music. While I love Christmas decorations and hot chocolate, November 3rd felt absurdly early for Christmas to start and particularly strange with all the latest summer fashions just popping out. As Margaret put it, don't they know they need to wait until after Thanksgiving and our brother's (early December) birthday? Somehow I think both have yet to hit Brazil, but Black Friday certainly has!