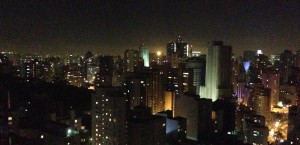 Somehow my first two weeks in Sao Paulo are over, which means so is my Airbnb stay with Tammy. I think I originally tried to give myself credit for making the brilliant decision to find a place through Airbnb, but in all reality, I just lucked out to have such an excellent host as Tammy. Yesterday was my last day staying with her, and I was very sad to leave!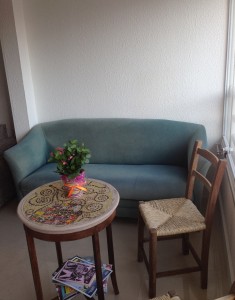 In addition to the critical fact that all of her previous residents had only the most positive things to say about Tammy herself, I chose Tammy's listing because of its proximity to Paulista and a metro station, the fact that it has its own gym, and the constant presence of a "porteiro" or doorman for enhanced security. The irony of this last is that, at least initially, the porteiro did a better job of keeping me in than non-residents out. What do you say, especially when your language skills are poor, to a doorman you can't even see?
And so, I was terrified of leaving and not knowing what to say over an intercom to get back in. When I left the apartment alone for the first time, I felt like I was sneaking out furtively, hoping I could somehow con my way back in. My fears were far from assuaged when I returned later that first day and pushed the little blue button at the first gate. A few seconds later, a man's voice mumbled something to me through the speaker. Without being able to see the person I was talking to, I felt at a loss for what to say to make myself understood. I attempted some Portunhol iteration of, "I'm staying with Tammy on the 11th floor," but this only elicited more uninterpretable (to me at least) questions. Eventually I seemed to have provided enough information to enter, and I smiled and nodded, "Boa noite, obrigada" at an opaque window as I passed through a second gate.
Continue reading Home sweet home →