It's a big day here in Brazil. For the past week, it's been impossible to go anywhere in Sao Paulo without hearing "Dilma! PT! PSDB!" as well as a number of choice words I will leave to your imagination. Campaign posters are everywhere, TV stations have been airing publically funded campaign ads in specified time blocks, and the streets are filled with people handing out political propaganda. On Thursday, the fourth presidential debate was held, and over the weekend, Brazilians all over the country journeyed to their hometowns to place their votes. By now, Sunday evening, the votes are in, indicating essentially that all the excitement is culminating in six more weeks of winter.
Because no one candidate garnered the majority of the votes in today's first round of elections, the top two candidates: the current president and PT's Dilma Roussef and her PSDB rival Aécio Neves will go head-to-head two weeks from now. This was a surprising first round result in what has been a dramatic and even tragic election season. On August 13th, less than two months before election day, Eduardo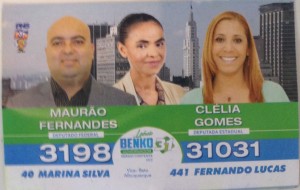 Campos, the candidate representing Brazil's third major party (PSB) died in a plane crash in Sao Paulo state. At the time, he was polling well behind the other two candidates, and it seemed clear that Dilma would keep the presidency. However, after tragedy struck, Campos' vice president Marina Silva began to rise in the polls, giving all indication that this radical environmentalist who grew up poor and illiterate in an Amazonian state, might give Dilma a run for her money.
Continue reading The Honest Candidate →