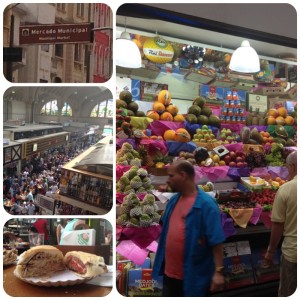 While I am something of a perpetual, unintentional tourist here, learning something new about Brazilian culture every day, my stay has been disappointingly lacking in formal tourist activities. It's a shame too because Sampa is filled with art, Samba (and the now oft-derided, pop-like "pagode," which my student described as music about nothing), museums and landmarks. One of my few touristy ventures has included a Saturday afternoon trip with a coworker to the Mercadão or mercado municipal, a giant indoor market in the centro (old downtown) of the city. The Mercadão, which opened its doors in 1933, is comprised of 100's of stalls of exotic foods including fruits and spices from all over the world. In fact, aside from my touristy inclinations, one of the reasons I wanted to go to the market was to buy garam masala since I couldn't find it in a traditional grocery store. On the second level, the Mercadão houses several restaurants famed for such favorites as pastel de bacalhau (a cod pastry), and sanduíche de mortadela (Italian sausage sandwich).
Near the market is the famed Rua 25 de Março. On Saturdays in particular, the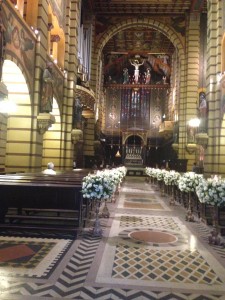 street is packed with people buying and selling knock-off designer athletic apparel, electronics, toys, and clothing. It is known as the best place in São Paulo to score a great deal while simultaneously being mugged. We didn't linger long, but I was happy to find a fabric store selling cheesecloth so I could make my first attempt at homemade paneer (again, impossible to find here—I asked for "gaze tipo queijo"). Instead, we headed to peek into the 400-year old São Bento monastery. Though very pretty, it turned out we'd missed the real highlight of the day by hours: the monks singing Gregorian chants at daybreak.
Continue reading And now for something completely different… →