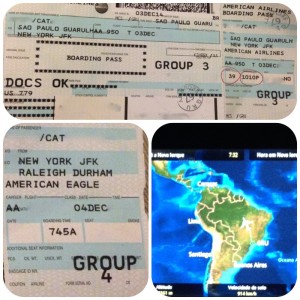 I woke up yesterday morning, ready to accomplish my last round of errands: pick up a paycheck at the Callan school, cash it at the bank, make one last souvenir-run at Shopping Vila Olimpia, and finally, rush to the luggage store to buy a vessel capable of transporting it all. However, my to-the minute itinerary was thwarted when I realized upon arriving at the Vila Madalena metro that I had forgotten my passport, which I needed both for entry into the Callan school building as well as cashing my paychecks at the bank. Wearily, I slogged back uphill to the apartment, slowly perceiving that I had an even bigger problem; it was suddenly becoming very difficult to stand upright, never mind walk without feeling like my stomach was seizing up.
When I finally arrived back at the apartment I collapsed onto my bed, unable to move. I tried to sleep it off, but every few minutes, I felt a deep, slashing pang, like my kidneys were trying to eject my stomach through my ribcage. All I could think as I lay there was, why, after managing to stay healthy over three months of inconsistent eating and sleeping habits, did I have to get food poisoning the day of my flight (not to mention, what the heck did I eat?)?! Clearly I wasn't meant to leave the country. I focused on revising and prioritizing my previous plan. Maybe I should just forget about the money. The most important thing was to be well enough to make my flight later that night.
Still, miser that I am, I really wanted to leave the country with all the money I had earned running around town in circles at the cost of my own health. I will spare you the gory details of the interim period, but feeling a bit better and knowing the banks close at 4, I finally forced myself out of bed around 2:30 when Samantha very kindly brought me a carry-on to use and some medicine. I also took a shower, and, for the first time, the water cut out at the end. Maybe it was time to go home after all?
Note from 2020: São Paulo is no longer in a drought (just a pandemic like the rest of the world), so the linked site allowing Paulistanos to check how much water is available in the water supply system or cantareira no longer exists, but I'm leaving it in the link above because it was very much a popular site at the time.
Continue reading Homeward bound! →